LA Calendar Show 2010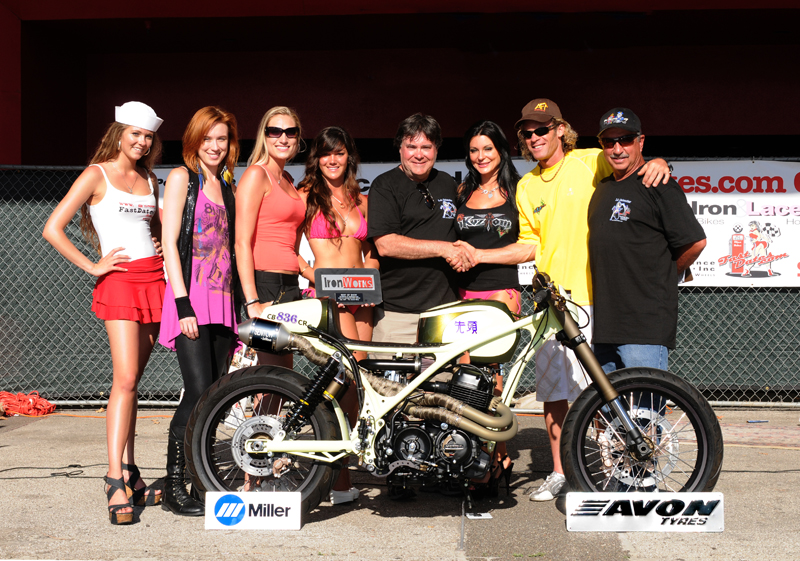 The 2011 LA Calendar Motorcycle Best of Show winner "Sentoh from AFT Customs. From the left: FastDates.om Calendar Kitten Camilla, hostes Emily Jaye, AFT Customs models and builders Shelby, Nelani, promoter Jim Gianatsis, builders Sarah and Jim Giuffra, Show assistant Lee Chapin. Click for Hi-Res.

20th Annual 2011 Los Angeles Calendar Motorcycle Show & Calendar Girl Music Festival
Jim Giuffra and the Girls of AFT Customs make it Five in a Row!

The Queen Mary Seawalk Village, Long Beach, CA , Jan 1st 2011 - The 20th annual Los Angeles Calendar Motorcycle Show presented by Russ Brown Motorcycle Attorneys, America's premier streetbike event returned to the Queen Mary in Long Beach, CA on Saturday July 16th. The legendary event celebrated its 20th Anniversary with a move from it's traditional Queen Mary Event Park location, to dockside next to the historic Queen Mary ocean liner in the exciting Seawalk Village which replicates an old British seaside town for a step back in history. The move to the new, smaller location was a reflection of the economy which has has impacted the custom and sportbike market so hard the last few years.

Making history this year was builder Jim Giuffra and the beautiful spokes models of AFT Customs / www.AFTcustoms.com who created not one, but two all-new customs bikes to premier at this year's Calendar Show Bike Building Championship. The 4-time consecutive Best of Show and Metric Class winners were back to try and retain their titles and they did. Their very unique and original 1970 Honda CB750 based custom sportbike named "Sentoh" featured a hand built perimeter frame, a single Mikuni HSR45 carb fed 4-tract induction system, hand made exhaust and kickstart system and modern RaceTech racebike suspension and Beringer brakes. Sentoh emerged out of the Sportbike Class, amid fierce completion prom the other classes including Pro Builder, to take 2011 Best of Show and give AFT Customs their 5th consecutive Calendar Show win.

Garnering 1st Place in the top Pro Builder Class was new comer Hiroyouki Hirata of BB Custom Factory / www.Custom-BB.com in Hiroshima, Japan. He flew in with his bike just for the Calendar Show, and like his own bike building idol Shinya Kimura did 6 years ago to confirm his reputation in the world of custom bike building, Hirata has now firmly established himself also as one of the world's premier custom bike builders. His bike is based off a 1990 Harley FLHTC and then was fully modified to the theme of "Japanese Culture".

The other custom bike premiered this year by AFT was 'Azumati' - a VT750 Bobber/Street tracker being built on commission for the Jackson Rancheria Indian Casino. Asumati is a Miwuk Indian word meaning grizzly bear, the monarch of the forest. In Miwuk stories the bear is a symbol of great strength and courage. This bike is fierce with a Yamaha R1 front end, Race Tech Piggyback Rear Shocks, a hidden radiator, CR450 front hub and brake. It took 2nd Place in Pro Builder behind Hirita.

The new Seawalk venue proved to be a just as exciting being packed to the fences with a huge turnout of manufactures, vendors, top name Calendar Bike Builders including Todd Silicato / ToddsCycle.com, the West Coast premier of the new Motus Motorcycles V-4 Sport and Sport Touring model bikes, SoCal's top Sportbike Clubs hosted by Pyrate Ryders' Rick Mitchell, and thousands of spectators. Included was the Calendar Girl Music Festival with its traditional beautiful girl fronted bands including the Show's Master of Ceremonies Emily Jaye with her band Frentik, the Barb Wire Dolls with Isis Queen, and New York signer songwriter Natalie Gelman. Special celebrity appearances included Sons of Anarchy cast members Emilio Rivera and Kristen Renton, plus Chopper the Dog with Dark Alley Customs promoting the Tazzy Animal Rescue Fund / www.tazzyfund.org.


The Calendar Show is produced by famed motorsports and fashion photographer photographer Jim Gianatsis of the well known Los Angeles based motorsports advertising and marketing agency Gianatsis Design Associates. The Show celebrates each year's premier each year of the new FastDates.com Motorcycle PinUp Calendars photographed by Jim, which include this year's 2012 Fast Dates World Superbike, Iron & Lace Custom Motorcycles, and Garage Girls Calendars. Beautiful World Superbike Calendar Kitten Camilla was there to meet the fans and posed non-stop all day long for photos, as did beautiful actress Kristen Renton.

Adding to the excitement was TV's Food Network which was there to film an episode of "Extra Virgin" a half hour Italian cooking show with actress Debi Mazar and her Italian husband Gabriele Corcos, both of whom are hard-core motorcycle enthusiasts. Gabriele actually road into the event in full roadracing leathers aboard his own Ducati Hypermoto. And their opening TV programs this season have included the couple taking a motorcycle trip across Tuscany, Italy, to enjoy the food of the region. At the Calendar Show the couple prepared a wonderful picnic lunch on the grass lawn among the Contest Bikes, which they shared on camera with many of the celebrities at the event.

New Lower $20 spectator admission this year, as always included the Calendar Motorcycle Show with its Calendar Bike Building Championship, celebrity Bike Builders, leading Manufacturers, Vendors, the Calendar Girl Music Festival and all-day admission to the famed Queen Mary Ghost Ship with the Saturday Night Builder's Party in the Queen's Observation Bar. Spectators also get complimentary admission aboard the historic Queen Mary Ghost Ship, and entry to the Saturday Night Iron & Lace Calendar Builders Party with a live band in the ship's Observation Bar. Exhibitor display and Vendor prices were also reduced by Jim Gianatsis to help industry partners in the current economy.

Russ Brown Motorcycle Attorneys present the Los Angeles Calendar Motorcycle Show with Associate Sponsors Iron Works Magazine, Blanco Basura Liquor, Mikuni Carburetors, Bikernet.com, Meguiar's Car Care Products and the FastDates.com Calendars. For additional LA Calendar Motorcycle Show & Calendar Girl Music Festival details visit http://www.FastDates.com/BIKESHOW.HTM

2011 Calendar Bike Building Championship Results
Best of Show: Jim Giuffra / AFTcustoms.com, "Sentoh" custom 1970 Honda CB750 sportbike.

Pro Builder: 1). Hiroyuki Hirata / www/Custom-BB.com, "Japanese Culture" custom 1970 FLHTC; 2). Jim Giuffra / AFTcustoms.com, "Azumati" custom Honda VT750 Bobber; 3). John Barnes / Condor Custom, 2011 H-D chopped springer rigid.

Street Custom: Ben Beck, Yamaha 1600 Roadster custom; 2). Dante DePalo, 2011 H-D Road Glide Bagger custom; 3).Dennis LaRossa, 2003 Yamaha Roadstar custom.

Classic Big Twin: 1). Bob Carrillo, 1947 H-D Classic Bobber Chopper; 2). Frank 'The Rat" Romero, 1973 H-D Shovelhead rigid; 3). Art Ellison, 1978 H-D Lo Rider.

Bar Hopper / Bobber: 1). Ron Baldinado, Philip Lopez / Crown Customs, "Nasty" 1951 Pan-Shovel custom; 2). Will Song / WSDmoto, 1979 Yamaha XS650 bobber; 3). Russell Smith, 1981 H-D "Iron Head".

Sportbike: 1). Chris Redpath / www.MotoGPwerks.com, 2011 Suzuki GSXR Rizla Replica; 2). Chris Redpath / www.MotoGPwerks.com, 1986 Suzuki GSXR Limited Yoshimua; 3). Chris Redpath / www.MotoGPwerks.com, 1999 Suzuki GSXR 750.