Press/News
FOCUS: AFT CUSTOMS-WORLD CLASS METRICS
IN THE BAY AREA'S BACKYARD
AFT CUSTOMS PRO STREET
EXHAUST
AFT Customs Announces Line of Hand-Shifters for Metric V-twins
AFT Customs Announces Models for Events and Tradeshows in Moto Industry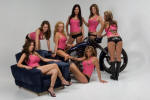 Published by
October 3rd, 2011
in Builders, Customs and Editorial.
Sweet memories of high school. Not necessary regretting your teachers, but what you were doing at home instead of your homework… In the case of Jim Giuffra, customizing his first bike, a 76 Honda CB750F that he still owns. A lot of fun, he remembers, not surprisingly sparking a successful career in Metric customizing. But what sets Jim and his shop AFT Customs apart from most his fellow Metric custom builders is that he is, through his work, the most accepted builder by the traditional American V-Twin custom motorcycle scene. Of course, the reason being his very radical bodywork fabrications and technical prowesses that you usually find on top American custom bikes. While keeping Japanese engines as his preferred platforms, Jim (and his attractive lady welders and mechanics) has no difficulty being recognized by his American builder peers. Proof is in his multi wins in top bike show competitions like the Los Angeles Calendar Show and the AMD World Championship Of Bike Building.
Although difficult to define in terms of style, his latest creation named Sentoh ("The Beginning" in Japanese) could be called a Neo Cafe Racer, a new breed of custom bikes mixing 70′s English motorcycle street performance lines with some irreverent attitude. To get started, Jim sourced a 1975 Honda CB 750F modified with a custom manifold to accommodate a single Mikuni HSR 42 instead of the standard 4-carb setup. This solution resolves the issue of running 4 pipes, 2 on each side joining in pairs before exiting behind the tail section. Added engine performance comes from the addition of a Wiseco 836 kit and of a Dynatek ignition. Kick starter is from a CRF450 with the shaft internally adapted to the 750 mechanism.
Jim's friend Bryan Schimke at TPJ Customs was in charge of the frame fabrication to emphasize its race pedigree, with the AFT Custom Girls in charge of most of the bodywork fabrication, from forming sheet metal to welding and polishing. So, let's mention Nalani, only 18 years old, for the beautiful tail piece and, oil tank and helping Jim with the wild gas tank. Cyndi & Kristin, both TIG Certified, for all the welding chores. Front end is provided by a set of R1 forks held in place by a custom triple tree, custom risers and 1 3/8″ bars provided by Kraus Motor Co. and sold exclusively through AFT Customs. Shocks were sourced and custom adapted by Race Tech.
Front & rear hubs are from a CRF450. Brakes & hand controls were provided by French company Beringer (notice the Moto GP front brake remote adjuster prototype.) Moto Gadget instrumentation . Grip Ace digital switches in the left side Avon grip . License plate rotates from horizontal to vertical and back to adjust to all US States legal requirements. LED lighting by Clear Water Lights & TPJ Customs. Dual Ballard did the seat and Scott Hultquist of Riff Raff Customs applied paint and artwork. Jim told me that Sentoh's weight is only 415 lbs and is certified street legal. All the AFT Girls worked on the project, lacing wheels, building the engine, doing fabrication and participating to final assembly. AFT Customs. (photography copyright and courtesy of Jerry Southworth for Cyril Huze)